LonAgro Tanzania recently held their official launch for the new John Deere 3050B 50hp tractor in Kibaigwa, in the Kongwa district of Dodoma.
Kibaigwa is Tanzania's main hub for maize production and it was only appropriate that this new "Best Bang-for-Buck" John Deere tractor was launched in this region.
The 3050B comes equipped with a Naturally Aspirated 4-cylinder motor that produces 50hp and 183 Newton-metres of torque. The shuttle-shift transmission with dual-clutch on the 3050B ensures that getting through the field with implements attached can be done with ease.
For smaller farms with tighter field conditions, the 3050B's ultra-compact 1,960mm wheelbase and tight turning radius makes manoeuvring easy and safe.
During the launch of the John Deere 3050B, LonAgro Tanzania had the honour of hosting Kongwa District commissioner Mr. Deo Njelembi. During his address to attendees; Mr. Njelembi urged farmers and cooperatives in the region adopt modern farming methods using machinery like the 3050B, and other equipment available from LonAgro Tanzania's!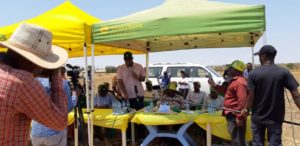 With such an impressive and versatile tractor now available from LonAgro Tanzania at the right price point, there is no excuse for any farmer or co-operative not to have a Deere in their fleet!
Contact Your Nearest LonAgro Branch and Order Your John Deere 3050B Tractor Today!