On 26 February, LonAgro Tanzania in collaboration with the Tanzania Agricultural Development Bank handed over 9 John Deere tractors to representatives of several AMCOS from Magu, Buchosa, Kwimba and Urban Bunda districts in the Lake Zone as part of a project to further enhance mechanised farming in Tanzania.
AMCOS, which stands for Agriculture Marketing Co-operative Societies are groups of small farmers who have come together to form Societies to work together to improve agricultural production and in turn their income and livelihoods. By uniting their small operations together, AMCOS members can produce crop yields in-line with much larger agricultural businesses.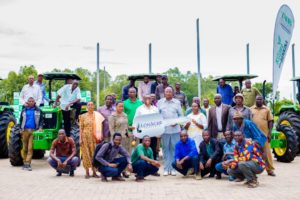 Part of the AMCOS success is access to better machinery and this is why the LonAgro Tanzania together with the Tanzania Agricultural Development Bank saw fit to supply 9 AMCOS each with a John Deere 75HP tractor and a FieldKing disc-plough, the perfect combination for any farmer who is taking the first steps towards overall mechanisation on their farm.
The handover, which took place at LonAgro Tanzania's Mwanza branch was attended by the District Commissioner of Ilemela District in Mwanza region together with regional representatives from TADB bank together with the members of the AMCOS societies who would be receiving the tractor packages. The event was also attended by local media including Mwananchi Newspaper, TBC, STAR TV, Channel Ten and Michuzi Blog.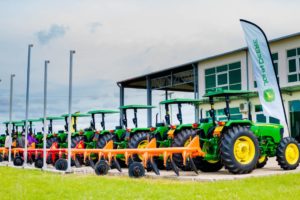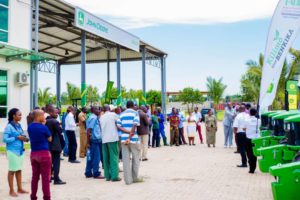 Speaking on behalf of LonAgro Tanzania was Mwanza Branch Manager; Ally Mgonde who not only welcomed the day's guests but, used the event to further emphasise LonAgro Tanzania's commitment to serving their customers at the highest level and continue to establish and grow their relationships with current and future customers!