At the end of October, LonAgro Rwanda had the pleasure of handing over a large consignment of 16 John Deere tractors together with other agricultural equipment as part of the SAIP programme.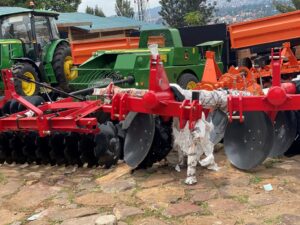 SAIP, or the Sustainable Agricultural Intensification and Food Security Project is a World Bank-funded initiative that is part of the Global Agriculture and Food Security Program (GAFSP). The project is implemented under the Single Project Implementation Unit (SPIU) of the Rwanda Agricultural and Animal Resources Development Board (RAB).
The project objective is to increase agricultural productivity, market access, and food security of the targeted beneficiaries in the project intervention areas.
Through the SAIP project, qualifying farmers receive a 70% discount on all farming equipment, and due to the project's popularity, it is expected to continue into the new year.
Being recognized as a preferred supplier is not only a proud moment for LonAgro Rwanda, but it is also a testament to the high level of professional service displayed by the staff of the company, as well as the quality of the products offered within their brand portfolio. SAIP beneficiaries also enjoy added peace of mind knowing they have selected world-class products that include comprehensive servicing and training programmes.
If you would like to find out more about the machinery on offer, please feel free to contact LonAgro Rwanda.