LonAgro is proud to introduce the new John Deere 5050D tractor to farmers across Angola, Malawi, Mozambique, Rwanda, South Sudan and Tanzania.
The John Deere 5050D is a replacement for the 3050B, and like that model it is perfect for a multitude of tasks, making it ideal for small to medium farms and haulage applications.
The 5050D is powered by John Deere's liquid-cooled 3029D 3-cylinder diesel motor which produces 50Hp or 37.2kW. The motor is naturally aspirated to ensure added reliability and uses a dry type, dual-element air filter. Getting power to the wheels is the job of the Collar-shift transmission that is equipped with 8 forward and 4 reverse gears. The transmission enables the 5050D to reach a top speed of 34.44km/h while the maximum reverse speed is 14.1km/h. The 5050D's 60-litre fuel tank will also ensure that you spend more time in the field and less time refuelling.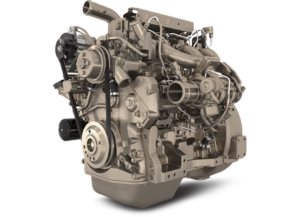 The 5050D comes equipped with 8.0×18 front wheels and 14.9×28 rear with oil-immersed disc brakes. Manoeuvring this medium-sized tractor is also a breeze and thanks to its power-assisted steering.  Speaking about power assistance, the 5050D comes standard with a Category-II 3-point linkage hydraulic system with automatic depth and draft control capable of lifting the 1600kgf. The Power Take-off is an independent 6-spline system with standard 540@2100 ERPM in standard mode and 540@1600 ERPM in economy mode.
When it comes to factory fitted options, the 5050D certainly doesn't disappoint. Out of the box the 5050D is equipped with JDLink© , John Deere's alert, monitoring and tracking system, their Rollover Protection System (ROPS) with a deluxe seat and seat belt.
There is also a mechanical quick raise and lower feature (MQRL), Selective Control Valve (SCV) and dual PTO.
In addition to the factory fitted options, you can also add ballast weights, a canopy, drawbar, tow hook or wagon hitch for your 5050D, making it unstoppable around your farm!
The John Deere 5050D is loaded with features, which is surely impressive for such a small model, and if you want to get this tractor into your field at the best price, then make sure that you contact your nearest LonAgro branch today.